Q. My rear Bose 6 X 9 speakers sound distorted at higher volumes?
A. We have seen the center dust cover on many Bose 6 X 9 speakers either become loose or flopping around on the speaker. A visual inspections is needed.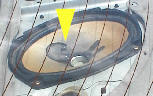 The picture above is from a '93 Mazda Millenia. Five minute epoxy can repair this problem. Check both speakers. If you have found this information to be helpful, please see Speaker Repair Help.